Nimble Evolution is Always Improving
Our story traces back to 2004 when Álvaro D'Alessandro founded the company that many years later would become Nimble Evolution as it is today.
Under the name OAT Solutions and focusing on continuous improvement for businesses of all natures – yet predominantly Software Development and IT – a new company was born in Brazil.
Over the following years, Álvaro worked relentlessly to establish OAT's brand while growing a team and forming strong partnerships, such as the one with Atlassian, forged in 2009.
In 2013, OAT Solutions launched its own framework for agile transformation initiatives based on empirical experience, backed by strong academic foundations, and experimented with dozens of customers that had already trusted OAT Solutions as their partner of choice for improving Software Development processes, tools, and people.
In 2015, OAT Solutions proudly established another strong partnership, this time with Inflectra, to boost its Agile Testing portfolio.
That same year, OAT Solutions made into reality a long-time dream: a flagship customer-centered event, connecting people from different companies to share their experiences while learning more from each other and from OAT's consultants to expand on what great looks like towards continuous improvement and holistic agility. Thus, ECOS was born.
Following over a decade of experience in projects and initiatives of all types and sizes, another alliance was formed in 2018 with AgilityHealth, turbocharging OAT's Business Agility portfolio by bringing in AgilityHealth's radars and the amazingly well-conceived Enterprise Business Agility Model®, which OAT incorporated into its Agile Transformation approach.
In 2019 another bold move started to take shape: an expansion towards the US; for several reasons, the US-based company was named "OAT Services." The endeavor was in the final planning stages when the pandemic hit hard and forced a stall that endured for over a year. When the conditions finally seemed positive, Álvaro D'Alessandro resumed on and, to get a fresh start, rebranded OAT in the US as Nimble Evolution in early 2022.
Our name has a specific meaning: we chose "Nimble" as it represents "quick, light, or agile in movement or action" and "Evolution" as "a gradual process in which something changes into a different and usually more complex or better form."
The blending of these two words adequately describes how we as a team operate daily and, thus, how we hope our clients interpret our workflow.
The vortex shape of our logo represents our outcomes-driven mindset through a circular flow, a time element with people in the flow, and the circles within a circle increase in size yet never stop the flow of continuous improvement.
Green and blue in our logo represent growth/health, and trust/peace.
While we may be "new" in the US, we have almost two decades of experience, knowledge, and a healthy balance between innovation and pragmatism.
Finally, in 2023, after thorough consideration, it seemed the natural path to adopt the name Nimble Evolution also in Brazil, creating a seamless and integrated experience for customers all over the world and an engaging experience for our valuable team of professionals that now spans over the world, with people working from Brazil, US, and Portugal.
Looking back at our 19-year history of success, we see that we have always been Nimble Evolution. And now, it's time to tell everyone what we already knew.
Our commitment to the best outcomes from beginning to end is paramount. Our ability to deliver is a strong differentiating factor. Our Humble posture is non-negotiable.
We are Nimble Evolution. We are at your service. We are just getting started.
A team of skilled, committed and seasoned professionals that enthusiastically work to exceed expectations is at your service.
We choose to be nimble and live up to a culture of continuous improvement.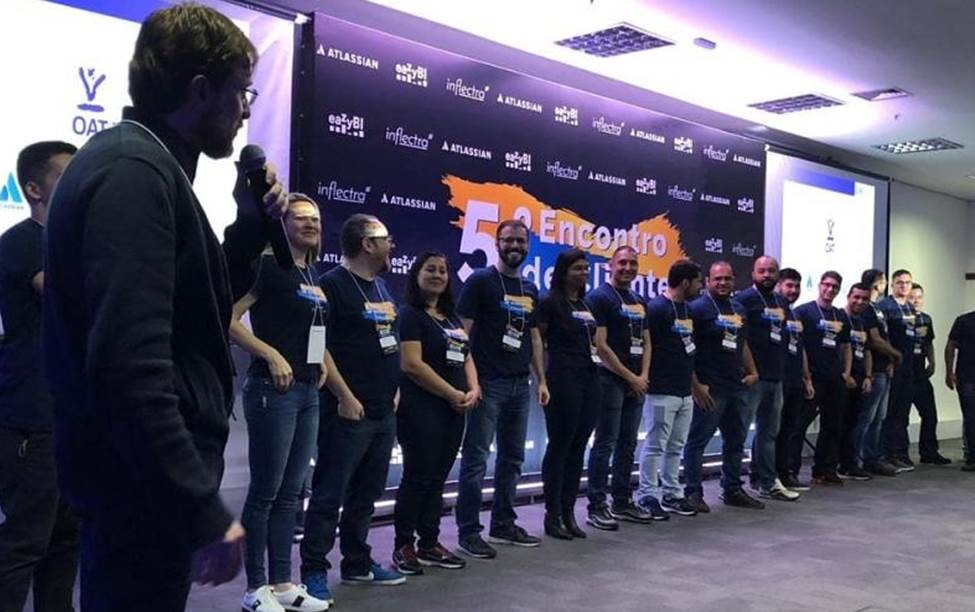 We believe that people work to their best when collaboration, commitment, trust, transparency, and openness are more than words, so we don't measure efforts to turn what we value into action.
Nimble Evolution is a US-based company, an extension of our parent Brazilian company, formerly known as OAT Solutions (in business since 2004).
Continuous education and continuous improvement have been part of our DNA since day one and play an essential role in our flexible yet focused way of working.
Our parent Brazilian company (formerly known as OAT Solutions) is an Atlassian Partner since 2009 and has since achieved the highest standard amongst the Partners network, being recognized as Platinum since 2019

As Nimble Evolution expands in the US, we aim to be recognized as a C.R.U.S.H. company by our customers, employees, and the community:
Committed
Resourceful
Unstoppable
Skilled
Humble
Ahead of Nimble Evolution is Álvaro D'Alessandro, a Brazilian entrepreneur, public speaker, trainer, and consultant with over 26 years of experience in continuous improvement.